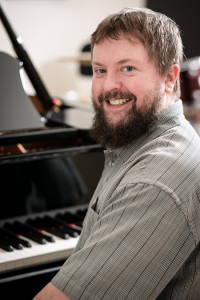 Music is a life-long passion for Erick Gilbertson, an accomplished composer, artist manager and teacher. He began studying piano at age nine, but is also a performer on trumpet, clarinet, saxophone, French horn, baritone and mellophone. Erick's live performances have included several showcases, regional tours, live television and The New York International Film Festival at Madison Square Garden.
Erick was also a principle composer and the Director of Operations for Quixotic Music Productions, LLC.  In conjunction with his team they produced a sixteen-disc production music library, which has been used by hundreds of clients in radio, television, film, and multimedia including:
• Time Warner Cable
• Hearst Argyle Television
• ABC
• Boeing North America
• The Men's Warehouse
• Budweiser
• Saks 5th Avenue
• New Balance
• Weiden & Kennedy
• Soundtrack Boston
• Henry Weinhards Brewing
• Bridgeport Brewery
On television, Erick's work has been featured on The Mom Show – Canada, Today Tonight – Australia, Kitchen Equipped – HGTV Canada, Discovery Travel & Lifestyle – Discovery Channel, La Mujer De Lorenzo – Venezuela, MTV Undressed – MTV, Outdoor Adventures – The Outdoor Channel, Tracker – SciFi Channel, Fashion File – Style Network, It's A New Day – Canada, Soul Food – Showtime, Just Ask Jon Eakes – Canada, and Sportsline – Australia. Erick can also be heard in such films as Home and Away, Battle Queen 2020, Personals, Hockey Mom, and others.
Erick has also produced songs for other music publishers, jingle companies, production music, and video games such as NBG Radio, The Nightingale Music Library, Flying Hands Music Library, Radio Concepts USA, Clever Monkey Studios, Mokal Music/Amazing Visions, Multiverse Sound, Naz Sect Publishing and Dave Pelman Music.
Erick enjoys collaborating with musicians, directors, and co-writers and welcomes opportunities to work with new colleagues in the industry. Currently, he is focusing his attention on composing, acquiring new publishing opportunities, artist representation and developing 12 Media Music.